'Tis the time of Christmas again! Needless for us to say, this Christmas is an extra special one, just as the rest of this year. While for many of us 2020 will always be tied to a sense of loss in our memory, we do hope you have the chance to lift the spirits up for the holiday and enjoy a moment of peace in the tides of the times.
Here in QuTech throughout 2020, we also tried to sparkle a smile on each other's face despite the disruptions in our lives and add a little more variety to all the online meetings than the plain old "you're muted" and "can you see my screen?". One way of doing this was a section in our weekly internal email update called #workingfromhome, where each time a few among us post a picture and some text describing their experience working from home and nominate at the end someone to else carry on the torch next week. Looking back at all of the brilliant contributions in the past months, we have picked the 10 best ones (and a bonus at the end) for a recap in this final blog post of the year. Some are hilarious (and you have to pay close attention to the details of pictures sometimes to notice!), others are simple but inspiring. Do you still remember the smiles we had over these moments? Now let's take a look at them again and hope you enjoy the holiday and a happy new year while doing so!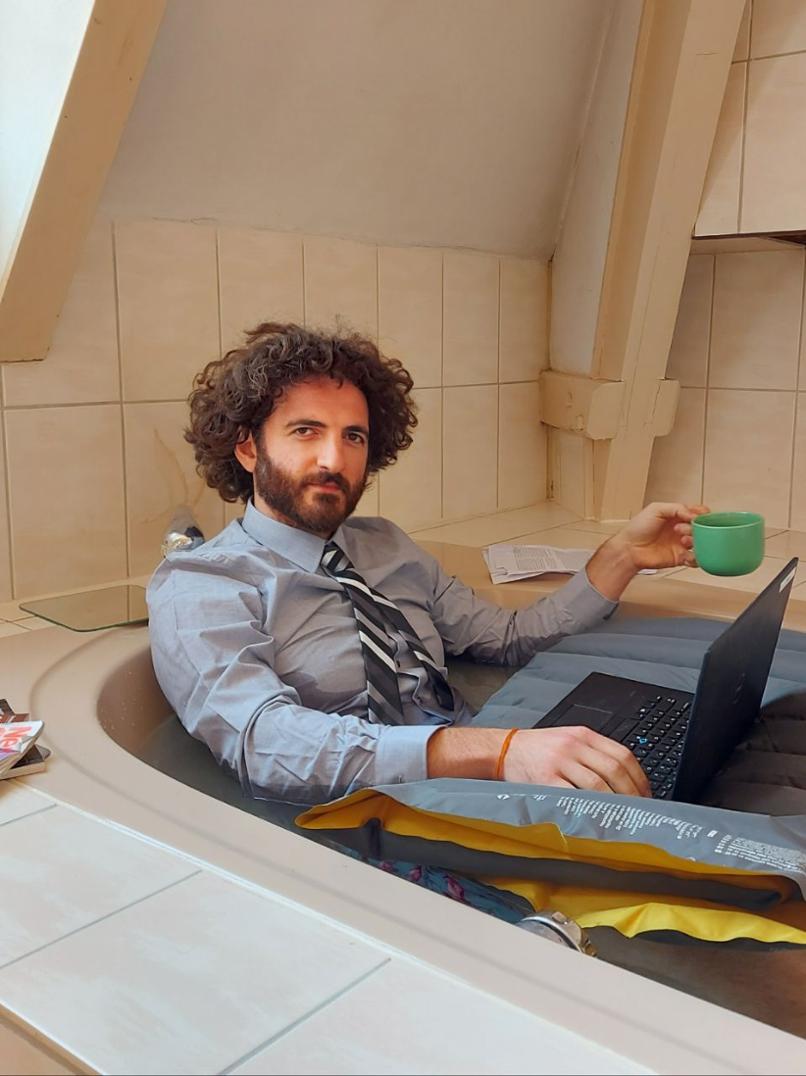 Just like Arian, I found the rate of information on the pandemic overwhelming at first. However, now it has been over a week since I've looked at the statistics, which makes this new lifestyle much more relaxing. The trick is of course not to relax too much, and try to stay productive.
For this, I found it helpful to dress for work in the morning, to clearly separate work time from leisure time. Effectiveness of team work is sure to be affected by not being able to talk to colleagues directly, but one silver lining to online meetings is that now I can consistently make out the axis labels on all the presented plots.
Simon: the Alpen-office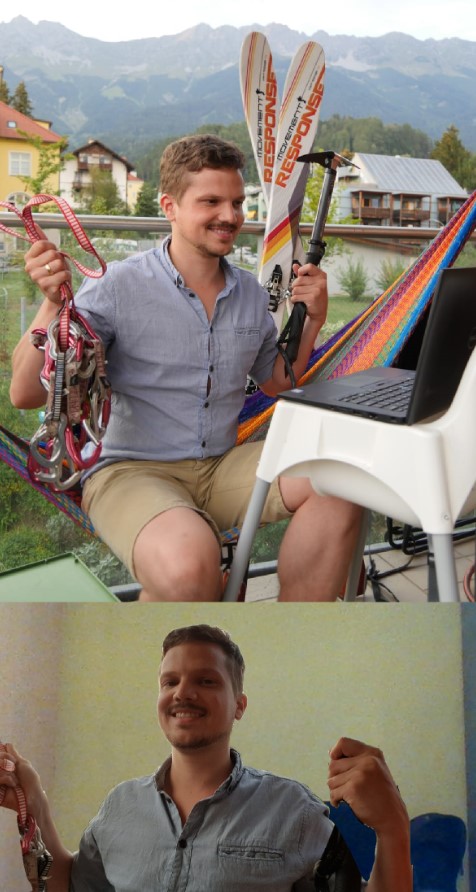 Hey Hans! It seems I took "working from home" a bit to literally as since 6 month I am working from my home town Innsbruck in Austria. This did not came without challenges, as after enjoying the Dutch lifestyle, I had to remember for what all this mountain sports equipment is used for. Luckily Zoom helps me in pretending that I am at my proper work spot (the room of my two-year old son). Beside this, controlling the lab runs very smoothly and I enjoy daily remote-remote entanglement of some diamonds far-far away – a teaser for a future Quantum Internet?
Patrick: a view from the cockpit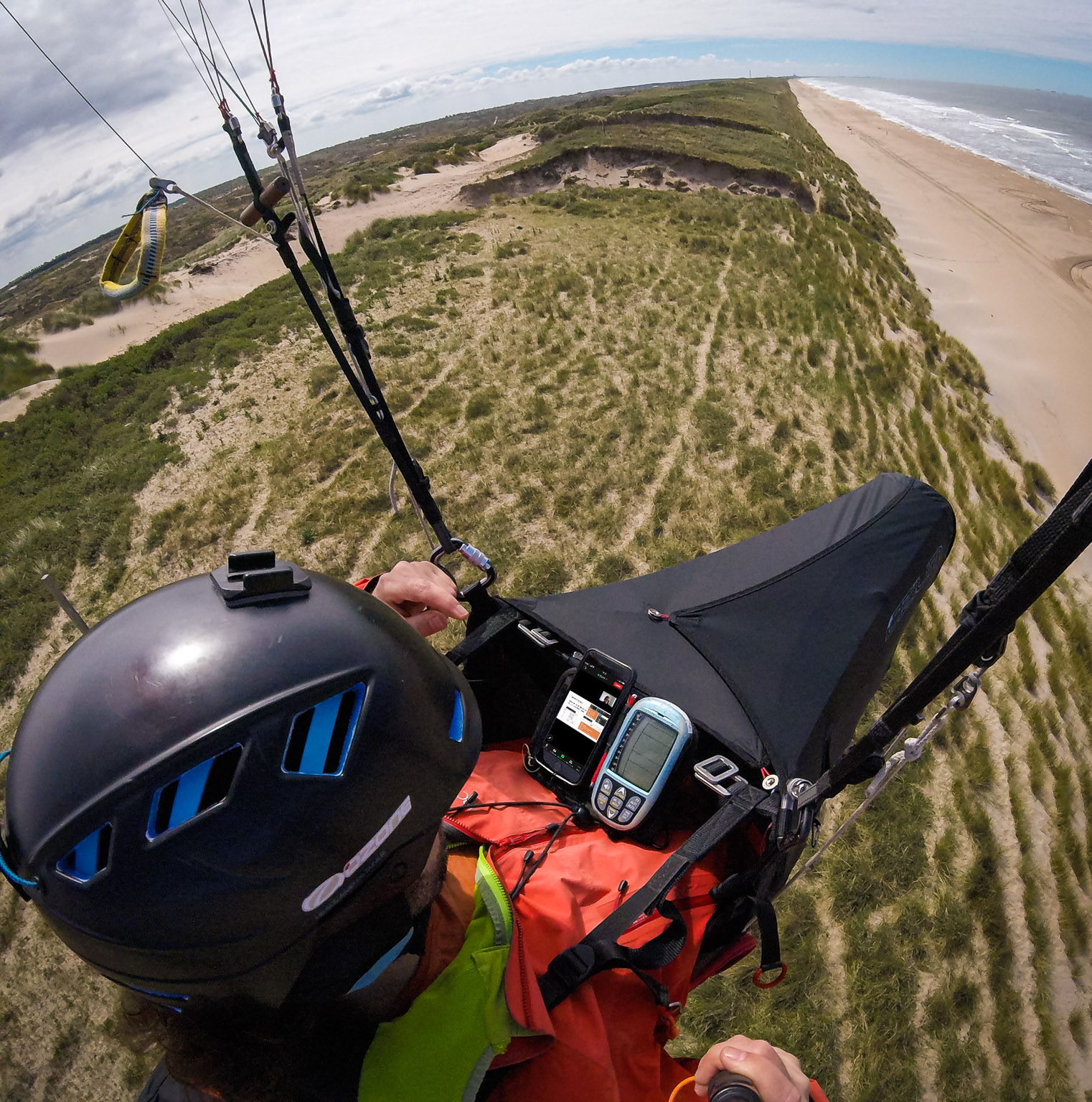 I often wept over the fact that that my profession didn't allow me to work from exotic places. But judging from my recent experience #workingfromhome, I now know that I'm not cut out for perpetual remote work.
Still, it's fun to imagine what people are doing during anonymous videocalls. For instance, I'm pretty sure that Max Russ is working from a sunny beach in the Caribbean Islands with a glass of scotch, though he consistently denies it. We now know for a fact that Nodar's favorite setup is in his bathtub.
On my end, I take advantage of uninterrupted 4G coverage to enjoy some social distancing, fresh air and Dutch views from my cockpit.
David: doing some home renovation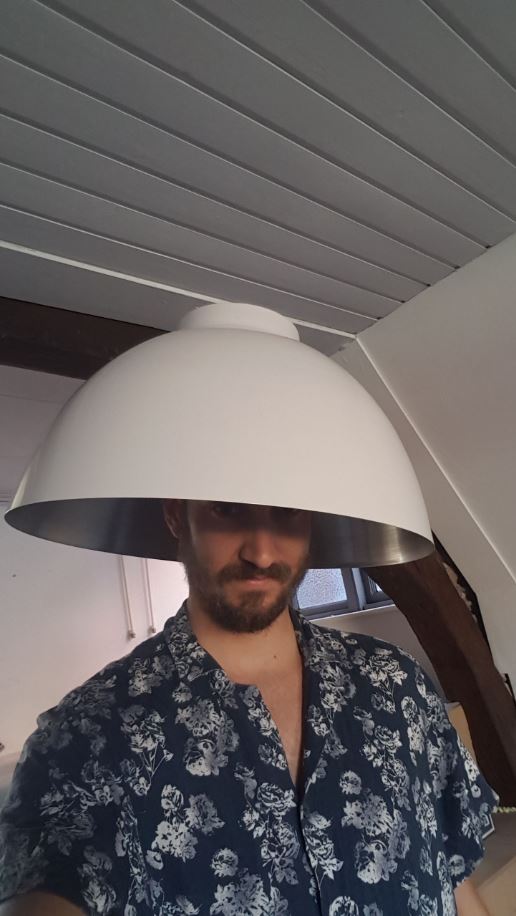 Hey Axel. That looks absolutely crazy. To avoid a prolonged hospital stay, I won't attempt to do that at my home.
For my Phd I moved into a new place, which turned out to actually be a rather old place. The roof started leaking , the heating broke and a pigeon decided to take its final breaths inside our ventilation shaft.
Since our landlord was less than helpful (" you are just not used to the dutch weather yet") I decided to take matters into my own hands and renovate the place myself. Here you see me figuring out how to install a lamp. Now I'm all settled in my cozy apartment.
Elsie: creating own climbing route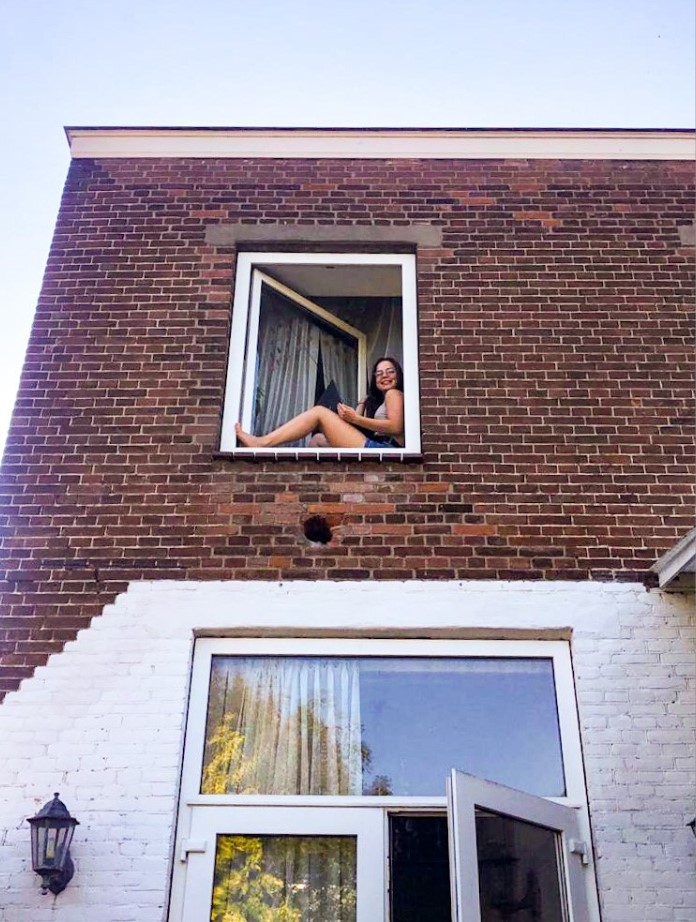 Hey Mariya! Glad to see that despite the (little) struggles you're enjoying your time with your family, pets, and your garden! Having too many tomatoes sounds like a good problem to me 🙂
This week I've been really taking advantage of our second summer! Swimming in the lake, going on runs, and even just reading articles on the terrace (or dangling from the window!) have made this week extra special. The weather has brought up some good picnic cooking from my friends, and I've enjoyed lunch breaks involving Spanish tortilla and home-made alioli made with my housemates.
Willemijn: you can get us to stay away from the lab, but you can't stop us from measuring!
As Stephan already revealed, I love plants. So now that we have to work from home I have lunch daily on my roof terrace in my (soon to be) tomato plant jungle 🙂 They are good companions, but I'm still not sure how to break the news to them that I'm planning on eating them… If someone is interested in a tomato plant (or ten), come by and adopt one (I somehow have 25 plants and they are definitely violating the 1.5m rule).
Axel: creating own climbing route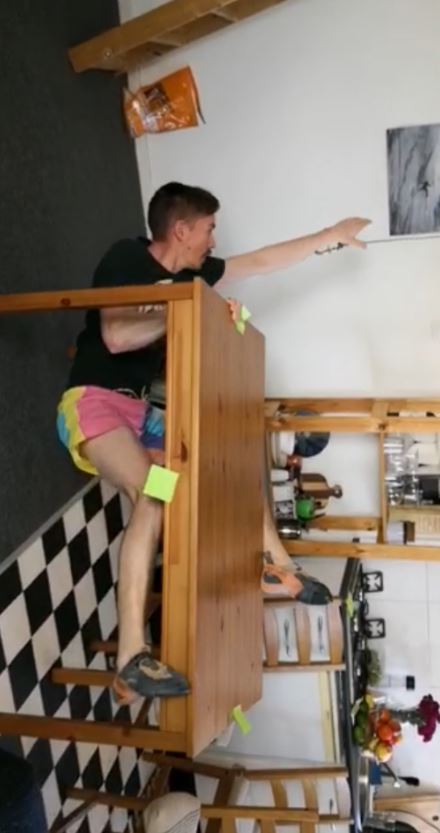 Hey Kenneth! Great to hear that you started exercising again! I also struggled in the beginning, since in my spare time I usually spend many hours a week in the climbing gym.
However, after a few weeks, me and my girlfriend decided to create our own climbing route in our apartment. We started putting post-it notes on closets, sofas, chairs and even the dinner table to mark the route. Afterwards, we tried if we could finish the route. As you can see in the picture, some transitions were quite tricky. All in all, we had a great time and managed to get energy back after just staying inside.
Raymond: Working? Hobby?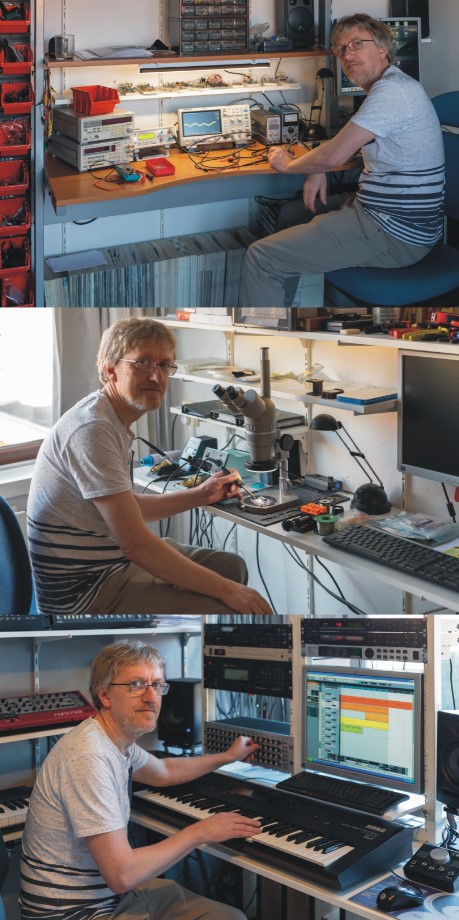 As I started in electronics at the age of 12, hobby and work are overlapping activities. Here you see me (working? hobby?) in my room at home. There I design, build, measure and use electronics. For example: in the bottom part of the picture I am programming frequency patterns for my rack of AWG's….. Although working from home is technically doable, I am missing the interactions, like discussions on measurement issues, and also the small talk. For now I show up at the university at least one day a week, combining troubleshooting and other need-a-person things.
Anne-Marije: Tolstoy, great for perfect screen height
It was surprisingly easy to start working from home. Niels claimed the desk in the living room, which left me with the dinner table.
What I thought I'ld do: doing sports every day, catch up on literature, write blogposts, manage all measurements from my living room and read plenty of books (I even bought a Tolstoj, which was a great idea as it gives my screen the perfect working height).
What I actually did: wear comfy clothes, make cuttings of my pancake plant, play with the neighbour's cat (who suddenly sneaks in daily), figure out what to cook with the vegetables from the support-your-locals-box (seriously, what to do with savoy?). But mainly… enjoy il dolce far niente.
I am happy and grateful that we can continue our work in some sort of way, but I for sure miss you all! Can we now please all wake up on March 17 and go to the TU.
Marja: high up in the attic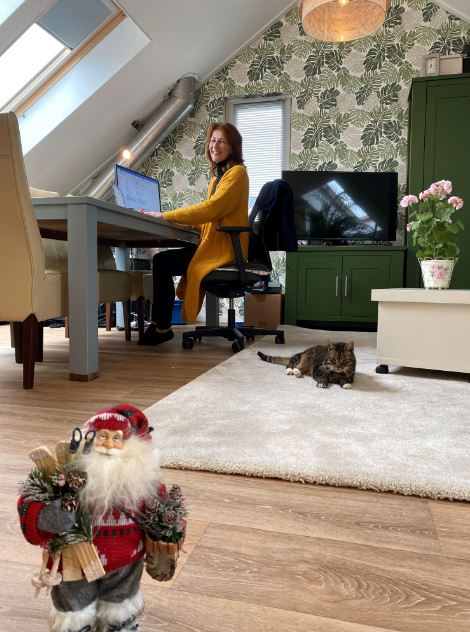 Hi Grazia, your picture turns out to be a successful attempt. The control panel looks impressive and I can even see your smile. Working from home was not on my bucket list but I am lucky to have created a nice working place in my attic which was thought out to be a second living room, my retreat when f.i. Soccer TV takes over all evening downstairs 🙂
A while back we had to close the Secretariat a few hours a day to have some work done and prevent people from coming in. Now I wish we were back in time, everybody dropping by our office. Really missing you all. Between the Mails, Teams and Skype alarming reminders, running down the stairs to receive packages for the neighbours 🙂 and hoping children go back to school when playing outside their favorite game "who can produce the highest decibel screaming …?", I'm trying to keep all the balls in the air together with my hopes, high up in the attic, already making plans for next years' biggest Christmas Party.
David: Thuisje look back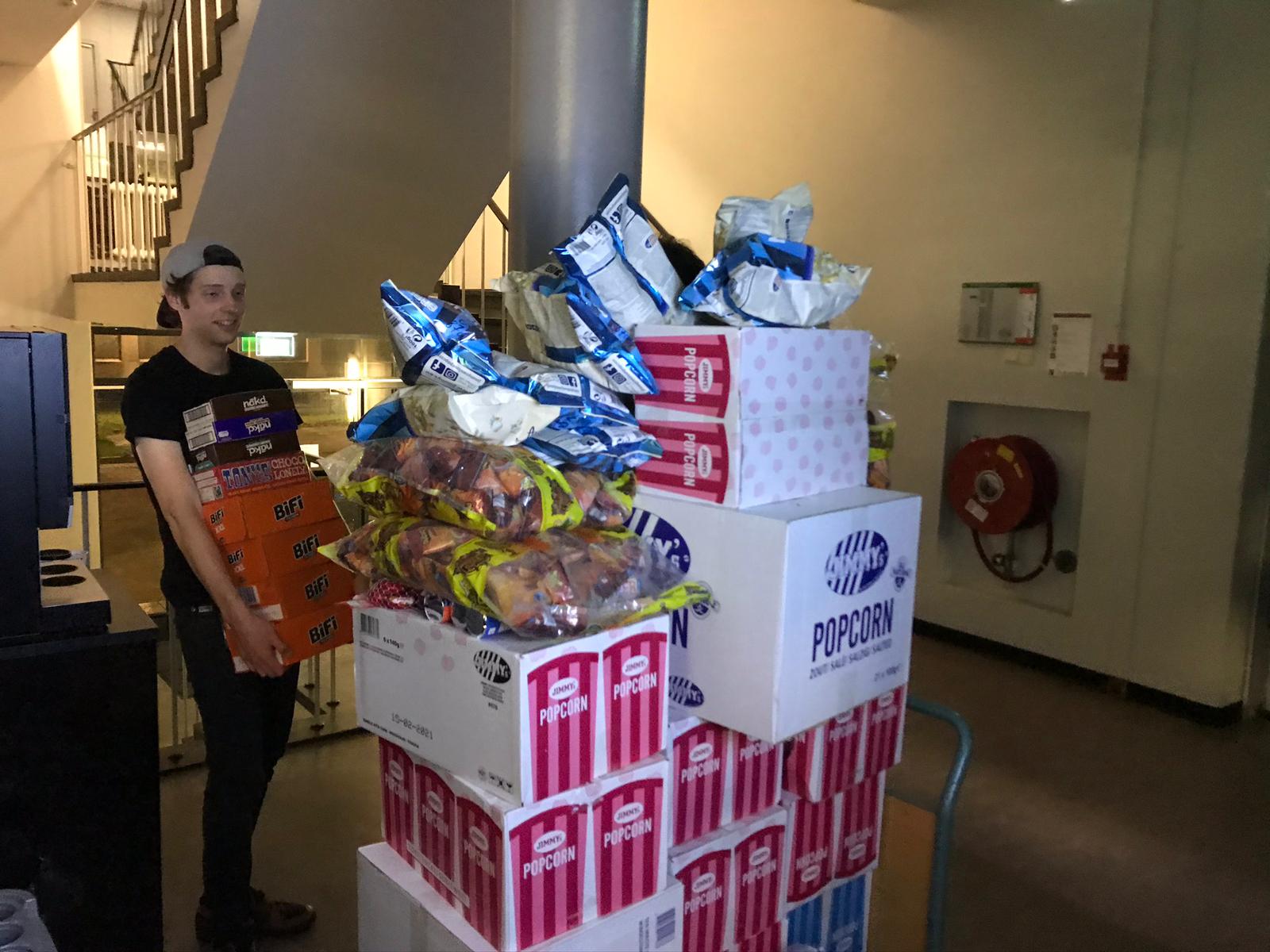 Last but not least, this year's Uitje is also extra special: we, of course, couldn't have an Uitje, but a Thuisje. Already months ago did Santa's faithful scientists tile the QuTech coffee table area with Thuisje boxes. The Christmas elves of DHL shipped them across Europe and Holland, with mixed success. And what box item did you like the most? Bifi's, popcorn or a sweater? Were you snuggling in your sweater when the Thuisje event kicked off? Remember the magician and knife-juggler? Pretty glad there was no hospital bill, would have to sell one of our many dilfridges… Remember the Thuisje photo competition? Maybe you even won a prize! I sure remember the amazing Qutech band performance we were honored to show. But now let's turn to Christmas, the jolliest Thuisje of the year!